Spring is here and it's time to start thinking about refreshing your outdoor space!  Whether you're thinking of selling and want to increase the value and curb appeal of your home, or you've been dreaming about changing up your yard to maximize the dog days of summer, there's no time like the present to start the process and to fully realize your outdoor living area aspirations before summer arrives.  We caught up with Jenn Hembruch, local landscape designer and owner of Paeonia Gardens (Squamish, BC) to find out how to best update the space where you spend the most time relaxing in the summer…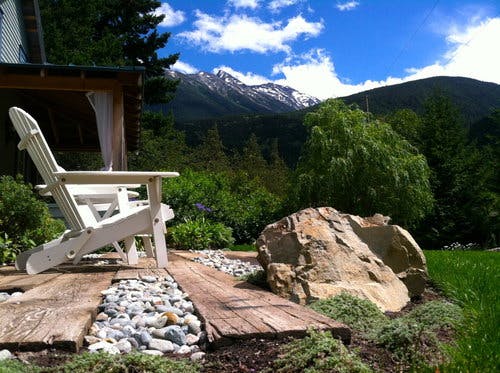 Yes – winter is coming to an end! Some of us may be more excited about this than others – regardless, early spring provides us with a great opportunity to plan and prep for a variety of outdoor projects. Here are a few helpful tips on how to best utilize the spring months to make the most of your landscape enjoyment this season.
PLAN : Consider how you want to use your landscape – whether it's a large front and back yard, a small town-home green space, or an apartment balcony. Each setting provides an opportunity for retreat and there are ways to maximize it's inherent potential. Think about how long you plan to live in your home, as that often guides goals and budgets for landscape projects, as well as material preferences. Consider how you want the space to function – what kinds of activities happen in this area or areas? What sight lines and views do you want to emphasize or minimize? Function guides design and good design is built on a solid understanding of how the space will be used. The winter and early spring months provide a great time to connect with a Landscape Designer to assist you in planning your goals and project, ensuring it's tailored to your specific needs and vision. I often tell my clients the planning process can average a few weeks to a month as does the installation so if you want to maximize enjoying your outdoor space during the summer months, the early bird gets the worm! March and April rev up and by May/June many installers, designers, and landscapers are in full swing and busy.
PHASE : Often it's difficult to do it all and everyone's living on a budget. Consider what elements in your exterior space are urgent (in decline or need repair), important (to you personally or for investment in your asset), and what elements are on your 'Want to have but not Need to have' list. This will help guide how you phase these items in over time. Spring is a great time of year to have your exterior siding / roof / windows / and gutters cleaned. Depending on what your hard surfaces are comprised of, spring is also the time for power washing concrete pathways / paver driveways / decks, and other wood features such as fences and exterior carpentry. Cleaning your outdoor surfaces sets you up for a season of enjoyment and is a great way to prep for any additional work such as exterior painting and treatment of wood surfaces. Given that we live in such a wet area, any exposed Cedar or wood features generally require annual or bi-annual staining / painting / treatments to protect them. If you know you want to paint or stain outdoor areas this summer, make sure they are cleaned this spring. 
BUDGET : Everyone has constraints so be realistic. Whatever your budget is, there are ways to work within it and phase your goals in over time. Working with a designer helps give you a framework to help project manage your vision, ensuring that each phase is working towards that overall goal. Some projects need to be implemented over time, broken up into two or more phases. I often recommend as a great starting point to my potential clients that  meeting for a landscape design consultation & assessment goes a long way in helping them make sense of what they have, what they want, and how to get from A to B. Having an overarching plan in place will help consolidate and organize information, manage the project over time, and provide you with a blue print to follow as well as quantifiable information which enables effective costing and quoting.
GOALS : Give some thought to how you want to interact with your outdoor space – do you just need a simple balcony area with containerized planters and a destination to relax and unwind from the day or entertain guests? Do you have a tired back yard you don't want to be in and you can't figure out why? Identifying what you do and don't like will help you determine the direction you want your landscape to go in. I work through a list of consult questions with my clients that speaks to the season of life they're in, kids/pets, when they are home/time of day, how they want the landscape to function – do they love to cook and want a thriving herb garden off the kitchen? Do they have young children and need a safe and friendly play are but also an adult lounge zone? Outlining your goals goes a long way in defining and designing the landscape. Good design connects interior life and exterior life – and brings about an overall theme, vibe, and cohesion between these areas. Spend some time identifying your style, design aesthetic, interest level in maintaining your garden, times of year you travel or are home and how this informs the landscape design, etc.
GET OUTSIDE! : The best part about spring – is getting outside! It's time to clean off those outdoor areas, raking up leaves and debris from the winter. It's also a good time for transplanting trees and shrubs (or installing them). Get a head-start on weeding and pruning. Hard prune any large hedges. Plan your vegetable plot and start your seeds. Cultivate your beds and turn the soil to encourage nutrition breakdown from the surface. The very best and most basic DIY landscape priority I encourage all my clients to do – add fresh soil to your landscape. Considering that plants "eat" soil – and that in turn is what supports their growth, health, foliage and flowering capacity – it makes sense that this is a fundamental annual gardening objective. You can hire a landscaper to do this for you or you can order your own soil / composted bark mulch from a local supplier, have it delivered to your driveway, and wheelbarrow it into place. Getting involved in your own yard is a fantastic antithesis to our busy modern tech & screen-saturated world and I encourage everyone to do it, no matter how black your thumb may be.
Jenn Hembruch is a Residential Landscape Designer and gardener with over 10 years experience working in some of Vancouver finest gardens. Learn more about her at: www.paeoniagardens.ca